King Charles III smelled the roses during his latest outing in London.
The King, 74, stopped by the University of East London on Wednesday for the college's 125th anniversary and to open a new primary care training hub. As the monarch made his way through the building, his chat with a local student was interrupted by a young boy who just couldn't wait to give him a large bouquet.
As seen in a video shared to Twitter by PA and The Telegraph reporter Tim Sigsworth, the boy excitedly stepped out of line to present King Charles with the flowers. "Eh!" he exclaimed, arms outstretched. The unexpected gesture got a laugh from the King and others gathered nearby.
"This young man is from our university nursery, age 4 years old," a guide explained, as the boy continued to watch the King with wonder.
As a grandfather of five, King Charles is perhaps familiar with the innocent outbursts of young children. He is grandfather to Prince William and Kate Middleton's three kids — Prince George, 9, Princess Charlotte, 7, and Prince Louis, 4 — plus Prince Harry and Meghan Markle's little ones, Archie Harrison, 3, and daughter Lilibet Diana, 1.
Wednesday was busy for the sovereign, who began the day with a visit to Altab Ali Park with his wife, Queen Camilla. The royal couple connected with activists who were involved in the anti-racism movement of the 1960s and 1970s and planted a tree together in memory of a young man who was murdered in the area. In 1978, Altab Ali was stabbed to death by three teenagers while walking home from work. The British-Bangladeshi man was 25, and the Altab Ali Foundation was launched in his honor to fight racism and all forms of extremism.
After the tree-planting ceremony, King Charles and Queen Camilla traveled to Brick Lane to learn more about the charities and businesses at the heart of the British Bangladeshi community. The royals were accompanied by a dance procession for the walk to the Graam Bangla Restaurant, where they met women involved with the British Bangladeshi Power & Inspiration organization.
From there, they moved to Brick Lane Mosque, which had previously been a church and synagogue before becoming a mosque — a history certainly of interest to Charles, who has long been passionate about interfaith relations.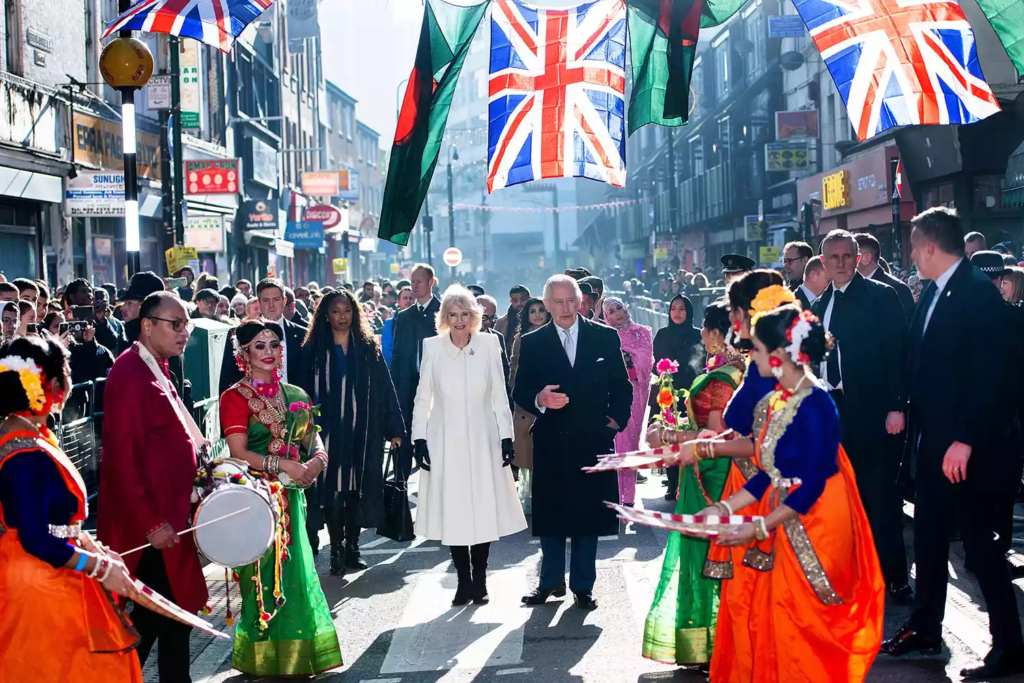 Later on Wednesday, King Charles hosted President Volodymyr Zelenskyy at Buckingham Palace during the Ukrainian leader's surprise visit to the U.K.
The King met Zelenskyy, 45, for the first time at the palace after the Ukrainian president spoke in the House of Parliament and met Prime Minister Rishi Sunak, who